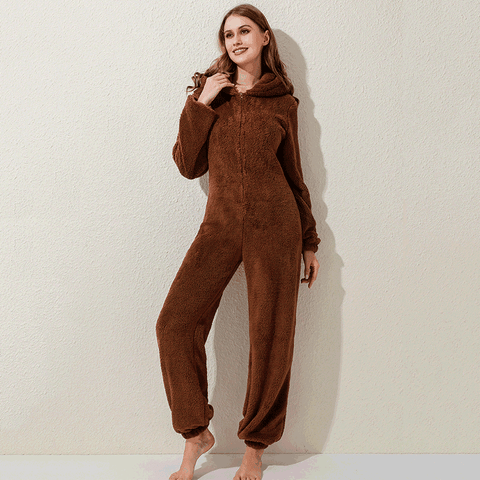 "Our Polar Breeslie™ onesie is the product you didn't think you need, but once you have it, it'll become something you won't want to live without!" - Yososo Mart🏡🛏️
Made from 100% Natural Cotton 
Safe & Hypoallergenic Material

SILKY & PREMIUM COMFORT - SOFTNESS MATTERS

✔️ High-quality selected soft fluffy fleece.

✔️ Made from hypoallergenic material to prevent any type of allergic reaction.
✔️ Front Zipper closure allows you to easily wear and remove.

✔️ Fitted elastic wrist and ankle cuffs so they will not roll up while you are sleeping.
✔️ Polar Breeslie™ cartoon design with hoody.
✔️ Designed to be comfortably roomy to allow for unrestricted movement. 
UNISEX AND A GREAT GIFT FOR FAMILY
 
✔️ This cool Polar Breeslie™ onesie is designed for adult men and women as well as teen boys and girls.
✔️  Perfect for Holiday pictures, lounging at home. Wear in the morning and year-round, too.
✔️ All sizes meet the needs of different heights.
✔️ Whether use it to sleep in, slumber parties, or lazy day
 
MACHINE WASHABLE AND DURABLE
 
✔️ Keep this cute pajama clear by simply tossing it in the washing machine at 30℃ and let it do the rest. No Bleach, No Iron, No Dry-clean, No Hard Plastics.
✔️ With lock-stitched seams that will last you through countless washes.
✔️ These jumpsuit adult onesie don't excessively shrink or lose color when washed in the machine.
 
SPECIFICATION:
Sleeve length: Long sleeve
Size: S-5XL
Style type: Urban leisure/ Home
Fabric Name: Fleece
Applicable gender: Unisex
Listing year/season: Fall 2022

 
ABOUT SIZES:
* All sizes are measured in inches
 
| | | | | | |
| --- | --- | --- | --- | --- | --- |
| Size | Length | Bust | Shoulder | Waist | Hip |
| S | 56.6 | 36.22 | 15.35 | 28.74 | 37.40 |
| M | 57.09 | 37.80 | 15.75 | 30.31 | 38.98 |
| L | 57.48 | 39.37 | 16.14 | 31.89 | 40.55 |
| XL | 57.87 | 40.94 | 16.54 | 33.46 | 42.13 |
| 2XL | 58.27 | 42.52 | 16.93 | 35.04 | 43.70 |
| 3XL | 58.66 | 44.09 | 17.32 | 36.61 | 45.28 |
| 4XL | 59.06 | 45.67 | 17.72 | 38.19 | 46.85 |
| 5XL | 59.46 | 47.25 | 18.12 | 39.76 | 48.43 |